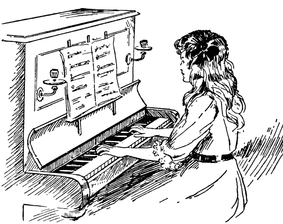 Festivals and Recitals
The teacher will provide festival and recital information a few month in advance. Enrollment decision remains with the student and their parents.
Recital, festival, and competitions are available in Austin and San Marcos area,
as well as National Piano Guild Audition.
Materials
Teacher will purchase student materials. Parents pay for their materials.
Practice
Parents agree to monitor their students practice at home on a regular basis.
Lessons
Lessons will begin at your scheduled time. If a student is late for their lesson, they will only receive the
remaining time allotted for their lesson.
Parents, please bring your student in no earlier than five minutes prior to your scheduled lesson.
For parents of first year students, 6 years old, you may quietly monitor the lesson in the studio. (Please do not
interrupt or ask questions during the lesson.)
For parents of students older, please monitor your student's lesson from the waiting room.
If you have questions, please ask them during the last few minutes of your student's lesson.

Notebooks
Students or parents should ensure that they bring both their music and notebook to each lesson, in order to get
the most from each lesson.
Payment (By Check or Cash)
Payments are due at the last monthly lesson for the upcoming month's lessons. There is a $20.00 late fee
if not paid on time. Parents will pay all bank charges for returned checks.

Cancellation
If you cancel your lesson 24 hours prior, make-up will be given during one month. If you cancel the lesson less
than 24 hours, no make-up will be given and no payment refund.

If you plan to drop piano lesson, please give 1 month notice.
If teacher will not be able to teach your child and cancels all future lessons, lesson payments will be fully refunded.
Parents
Please help me keep both the studio and waiting area nice and clean for both you and the other students.
If you have other small children with you, please do not bring them into the studio. Please have something
to keep them busy and quiet in the waiting room, books,cards, etc. (Please – no painting or coloring items,
or anything that will scratch the floor.)
---
---
Tuition
For 30 min = $35
For 45 min = $45
For 60 min = $60
School new year for month of September schedule be made a deposit of $50.00 per student.
If student will discontinue piano lessons and give 1 month notice, fee $50.00 will be given back.
If student will give last minute notice, fee will not be returned.


Fee for festival must be paid by dead line.